Transport logistics business, Transdek UK, today celebrated their recent Queen's Award win in an official presentation ceremony at their HQ in Harworth, Doncaster. The ceremony was attended by two Lord-Lieutenants from South Yorkshire and Nottinghamshire, who act as HM The Queen's representative in official Queen's Award ceremonies. During the ceremony, Transdek CEO Mark Adams received a crystal rose bowl bearing the Queen's Award emblem.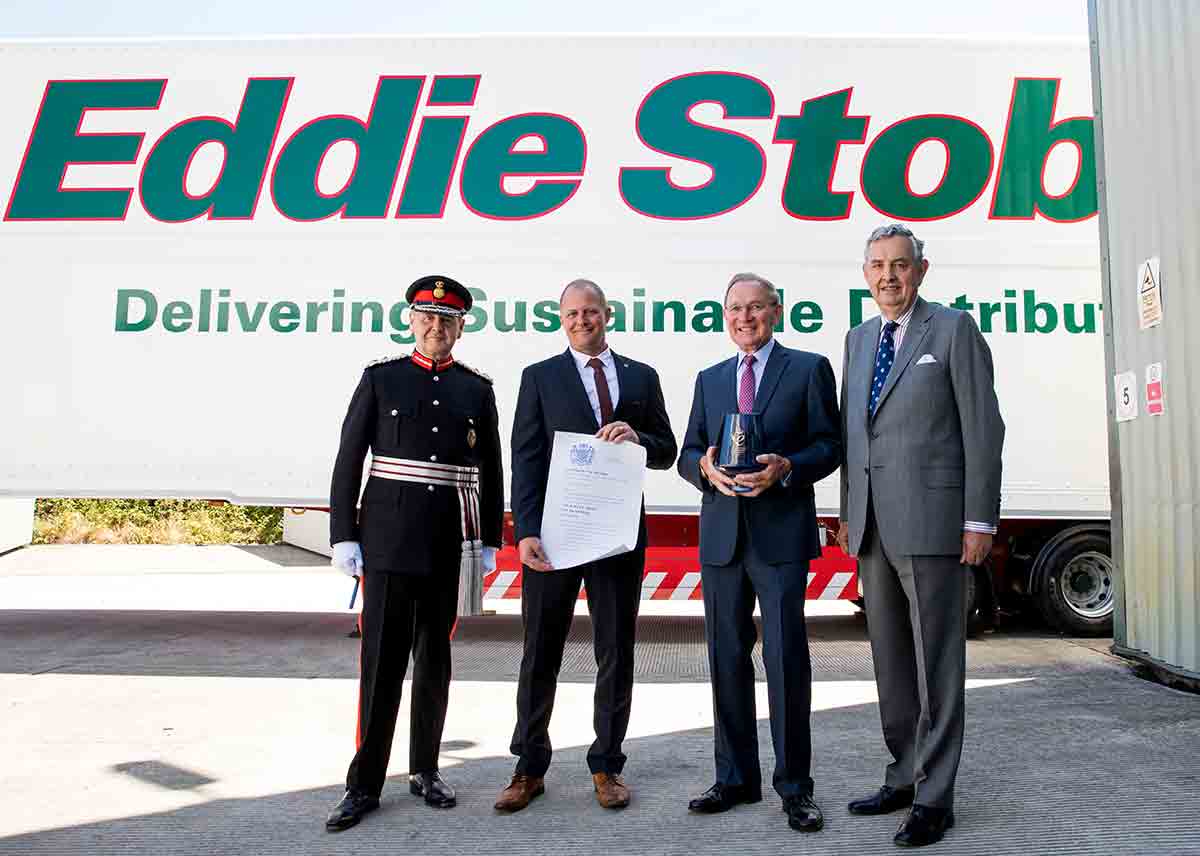 Announced in April of this year, the Queen's Awards for Enterprise celebrate outstanding achievement by UK businesses across four different categories. Transdek won the prestigious award in the Innovation category for their pioneering Wedge Trailer. It is the third time Transdek have won this award. All of Transdek's 55 staff attended the ceremony, alongside some of the businesses loyal customers, including Boots, Eddie Stobart and John Lewis.
Commenting on today's events, company founder and CEO Mark Adams said:
"We are all exceptionally proud of our third Queen's Award win. It's been a huge team effort to develop our pioneering Wedge trailer, so it's great to celebrate this achievement today with all of our staff and customers.
Our business has always been leading from the front in terms of research and development, and the Wedge trailer is one of our most innovative products to date. It enables our customers to generate up to 25% additional load volume and up to 7 tonnes of additional load weight capacity. To give context to those figures, if all UK trucks and single deck lorries converted to the Wedge, this could save over 2.5 billion miles per year – the equivalent of removing more than 1 in every 7 HGV's from the UK's roads."
Sir John Peace, Lord-Lieutenant for Nottinghamshire, commented:
"I am honoured to be representing HM The Queen today in awarding Transdek their official Grant of Appointment. The Queen's Award for Enterprise was launched in 1966 aiming to recognise the best of British innovation and achievement. Transdek UK is exactly the kind of pioneering business we aim to reward. Their heavy investment into research and development is set to have a dramatic benefit to the environment."
Mr Andrew Coombe, Lord-Lieutenant for South Yorkshire, said:
"Transdek UK is a great example of a successful Northern manufacturing business. What really impressed our judges was the environmental benefits that Transdek's Wedge Trailer offered. Any business that pioneers a way to get less freight vehicles on the road should be applauded."
The extra capacity and payload available in Transdek's Wedge trailer has been achieved through a patented variance to the conventional trailer body design allowing increased aperture on both decks to accommodate full height loads. Transdek customer, Nisa, have been able to cut 1,300 long distance journeys, saving 820,000 kilometres on the road and over £400,000 of transport costs per year through its first fleet of Wedge Trailers.